A looming hurricane has nothing on the storm raging inside…
Karina Valdez loves a good adventure, but jetting off to the Bahamas with a complete stranger is taking it to the extreme. She can't believe her meddling best friend entered her in a radio dating contest. Even more shocking? Karina won! A tropical getaway she can do. Making a love connection with a hot local bachelor, not so much. Especially when she's not looking for a man.
Meteorologist Andrew Romano is psyched over winning the radio contest. He's ready to settle down and get married, prove once and for all that he's not a player. The contest will surely help his chances—he's been matched with his perfect woman. Too bad she doesn't want him. To make matters worse, an erratic storm has shifted direction and is whirling toward them. Andy will do whatever it takes to win over the elusive beauty and keep her safe. He can handle a hurricane. But what about the other storm waiting to be unleashed?
Available in eBook & Paperback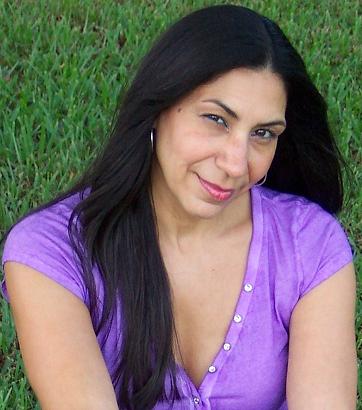 It was a blazing summer day, not a cloud in the sky, the heat peaking above ninety. Seagulls sang above me, turquoise waters lapped before me. My thoughts were as far in the distance as I could see… miles and miles away from any semblance of life. I hope they call me… It was the one thing weighing heavy on my mind. Just a few days earlier I had queried my first publisher, setting off what became a life-altering chain of events. It all started on the beach that day. I remember fishing out my cell from the over-stuffed bag to check for messages. Next thing I knew, I was jumping up and down on the sand like a complete fool. Luckily, the people nearby dismissed me and went back to their reading. I, on the other hand, was thrown into a whirlwind of events where I never once looked back. Selling my first novel to Kensington Publishing was a dream. Getting contracted for two more books just a few months later was a fantasy. Writing romance from the heart is my new reality.
Welcome and thank you for letting me share this with you. Feel free to wander around the pages and learn more about the books I've written. Surrender yourself for just a little while, and I promise to indulge you with romance, adventure and sultry spice.
Thanks for visiting and please come back soon!
Contemporary Romance Author
Escalera has a great voice for contemporary romance. It's fun and flirty, sweeping you up in a romance that is thrilling and passionate.
Under the Covers Book Reviews
Escalera gives yet another superb story. I just enjoy her writing style immensely. It draws you in and consumes you quickly. It's fluid and Escalera makes you care about the characters and feel the emotions that they do.
Ramblings from a Chaotic Mind
Dangerous Desire was a fabulous reading experience. Escalera's voice is thrilling and full of passion. Fast-paced and fluent, witty and moving, Dangerous Desire is sizzling hot from start to finish.
Escalera's writing is smooth and addictive, her characters amiable, hot and sensual. Shay and Dylan's journey to find their way back to one another is gripping, sensual and hot. Still Hot for You is an emotional, witty and sexy read. I loved it from start to finish!